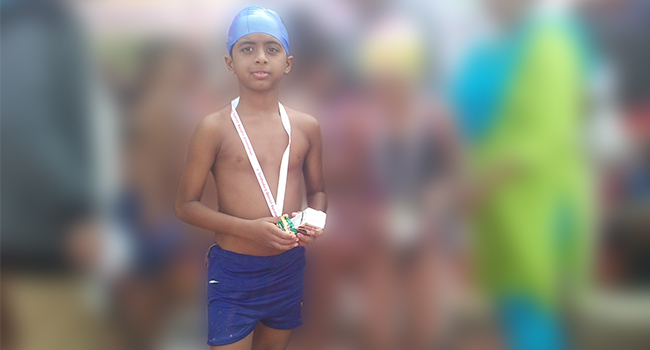 Parth Shetye - A Swimming Champ & A Palavian
BY LODHA
06 February, 2019
'Every small ripple makes the biggest waves' stands true in our case. My family and I got to witness this positive ripple effect once we moved to Palava City. Some experiences create such an impression in your life that they tend to leave you speechless. The experience that I'm trying to mention here is something that my son Parth Shetye got to experience first-hand at Palava City. Although I knew he wasn't a swimmer, this is the place that helped him recognize his interest in swimming and helped him tap his actual potential.
I still remember that day as vividly as if it was just yesterday. We had enrolled Parth to a swimming academy in November 2017. Even though he had never been into a swimming pool before, he got attracted to the pool like a fish takes to the water. Since that day, there's been no looking back and he's become a complete water baby. His interest in swimming led him to participate in the 25-meter freestyle swimming for kids aged under 10 at Palaso. Not only did he secure the 5th position in this competition, but he also thoroughly enjoyed the whole experience of being in the water. He also took part in a Dual Aquathon and was commemorated with a medal for making it to the finish line. As time passed by, Parth has been confident enough to finish a 1 km sea swimming session at Mankeshwar beach, Uran and Sunrock to Gateway. He's gone on to participate in a 40-meter freestyle swimming at Vibgyor interschool and completed it within 44 seconds. As of today, Parth is preparing for the 1 km open sea swimming at the 9th open sea swimming competition held at Malvan.
#PalavaMakesMeMore Confident that Parth will go on to represent India in swimming and become a Gold medalist.